MAHARAJAH TUKKOJI
Fourth King of Thanjavur, H.H. Cholasimhasanathipathi Srimant Rajasri Maharaja Kshatrapati Tukkoji Raje Saheb Bhosle Maharajah alias (Tulaja Rajah I) ruled Thanjavur from 1728–1736 A.D. King Tukkoji was the third son of King Venkoji succeded to the throne of his father as his two elder brothers King Shahaji II and King Serfoji I had no issue. He was a pious man. When he ascended the throne, he was fairly aged and ruled for about seven or eight years. He was a good linguist and introduced Hindustani Music in Thanjavur,Tamilnadu.
He was a scholar and wrote several works in Marathi and Sanskrit. His outstanding Marathi work is Bhahwlakatha Choornika, Natyavedhagama, Dhanavantri Vilasa, Vyakhyanive, Mantra Jyothisa, Dhanvantri-Sara nidhi and Sangeetha Saramirutham on music. His work Sangeetha Saramirutam is considered to be a standard work on the theory and practice of classical Carnatic music even today. He patronised a large number of poets and musicians. Some of his Marathi scholars are Mallari Doss author of Pavana Vijayam, Kesavaraj author of Bodhpar slokas, Ghana Shyama author of Shanmuga Leela. Some of his Sanskrit scholars are Sadasiva Dixit (his court poet) author of Sabdha Kaumudi and Geeta Sundaram, Ghanashyam a scholar and minister under him and author of Anyapashana Satakam, Dhasa Kumara, Dhasa Tippan, Neelakhanta Vijaya champu, Shakuna Sanjivani, Ananda Sundari and Navagraha Charita the commentary on Bhavabhutis Uttara Ramayana. Two wives of the minister, Kamala and Sundari and Ghanashayama were also some great scholars whose work in Sanskrit was Vriddasala Bhanalika, adorned his court. One of his Tamil scholars was Supradeepa Kavi Rayar, author of Koolappan Naikan's Ammanai and Viralividu-Thoothu. Ramasami Dixitar was his favourite musician and composer. He is the composer of Carnatic and in Hindustani music his Uttararamayana champu is noteworthy. He is credited to have written 160 works on several subjects. Manambhatta a Sanskrit scholar of King Tukkoji court is stated to have collected numerous works and has given them to Tukkoji. His period also saw cultural revival. His time was also occupied in wars with his neighbouring countries and in subduing the poligars of the south who rebelled against him. The revolt was quelled and peace restored. The Muslims in the southern states of Arcot and Carnatic tried their utmost to destroy Thanjavur Kingdom. Chanda sahib dislodged Queen Meenakshi the last of the Nayak ruler from Trichy by stratagem and treachery even though Tukkoji helped her.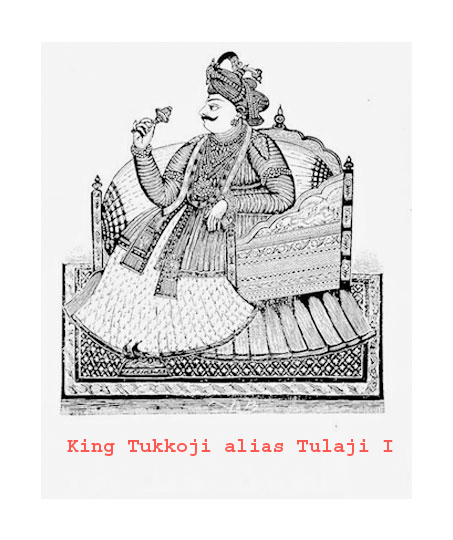 His reign also witnessed the involvement of Thanjavur in the affairs of the Marava country. It was during his time that the famous Sri Punnianallur Mariamman Temple which is three miles away from Thanjavur was built and consecrated by his spiritual Guru Sadasiva Brahmendral. Tulaja was a musician and wrote a text of musicology. He is also the author of the following works.
1. Anyapadesa sataka
2. Dasakumara carita tippana
3. NilakanthaVijaya champuvyakhya
4. Sakuntalavyakhya-SakuntaSanjivani
5. Madanasanjivana
6. Candanuranjan
7. Viddhasalabhanjika vyakhya
8. AnandaSundari
9. Navagrahacharita
King Tukkoji died of ripe age leaving two sons behind him. His eldest son Maharajah Ekoji alias King Bavasahib succeeded to the throne of Thanjavur.