MAHARAJAH SERFOJI II
Tulaja II had no issue to succeed him. He proposed to take an adoption of an eligible boy from his agnatic line and thus his choice fell on Serfoji. Serfoji was the son of Shahaji an agnate whose family was in the protection and patronage of Tulaja II and his father Pratap Singh.
Serfoji was born in 24th September 1777. He was adopted in 22-1-1787 by Tulaja II. Serfoji II became the Rajah of Thanjavur on 30thJune 1798.
Brief Explanation:
The most famous and lasting rule was that of Serfoji II who ascended the throne in 1798 A.D. By that time the British had veritably ruled most of the India and Thanjavur had to be handed over to the British throne. Serfoji II was deprived of all power. The revenue and judicial systems were taken over by the east India Company, leaving Serfoji a mere titular head. Tulaja II adopted little Serfoji born in the royal Bhosle family with all the relevant legal procedures before his death. Rev Christian Fredrich Schwartz, a Dutch missionary was appointed as the teacher and guide. Serfoji was Trained and tutored in st.George school Madras under the direct supervision of rev Schwartz and in course of time became a scholar. Serfoji devoted his life to the pursuit of culture. And Thanjavur became renowned as a center for learning.His Saraswati Mahal Library was endowed with manuscripts, printed books collected from all over the world. This Library is boasted of treatises on Vedanta grammer, music, training of elephants and horses etc. His scientific bent of mind is demonstrated by his collection of various instruments like the air pump, electric machine, an ivory human skeleton etc. Apart from his avid collection of books and manuscripts Serfoji was more than a bibliophile. He established the Dhavantari Mahal where physicians of allopathy, ayurveda, unani and siddha researched their systems of medicine. He had the important herbs studied and catalogued in the form of exquisite hand paintings.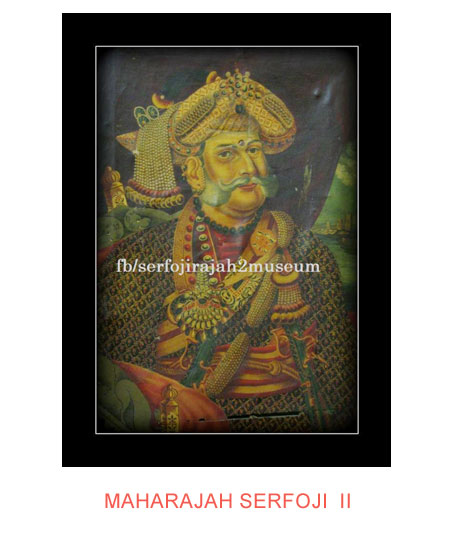 Serfoji patronized music, dance and the fine arts. All in all, the Maratha rule in Thanjavur encouraged a golden period before its eventual culmination at the hands of the British. The two hundred years of Maratha rule left behind a rich legacy of art, music and architecture. The aroma of which still lingers within the city structure.
Rajah Serfoji's reign witnessed revival on literature, education, music, dance, medicine, and in fact his period was the golden era in the history of Thanjavur. He loved foreign languages. At the same him he did not neglect his native languages and received the best Hindu education under eminent Pandits of the orthodox Hindu school. This kind of education made him strive for the harmonious blending of both eastern and western cultures and this effort of his manifested in his various activities in the field of music, medicines etc.
The most famous and lasting rule was that of Serfoji II who ascended the throne in 1798 A.D. By that time the British had veritably ruled most of the India and Thanjavur had to be handed over to the British throne. Serfoji II was deprived of all power. The revenue and judicial systems were taken over by the east India Company, leaving Serfoji a mere titular head. Tulaja II adopted little Serfoji born in the royal Bhosle family with all the relevant legal procedures before his death. Rev Christian Fredrich Schwartz, a Dutch missionary was appointed as the teacher and guide. Serfoji was Trained and tutored in st.George school Madras under the direct supervision of rev Schwartz and in course of time became a scholar. Serfoji devoted his life to the pursuit of culture. And Thanjavur became renowned as a center for learning.His Saraswati Mahal Library was endowed with manuscripts, printed books collected from all over the world. This Library is boasted of treatises on Vedanta grammer, music, training of elephants and horses etc. His scientific bent of mind is demonstrated by his collection of various instruments like the air pump, electric machine, an ivory human skeleton etc. Apart from his avid collection of books and manuscripts Serfoji was more than a bibliophile. He established the Dhavantari Mahal where physicians of allopathy, ayurveda, unani and siddha researched their systems of medicine. He had the important herbs studied and catalogued in the form of exquisite hand paintings.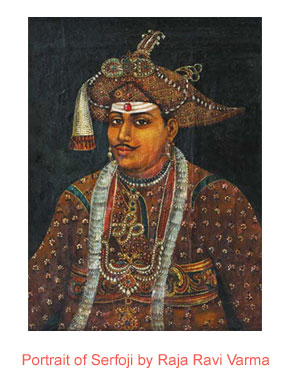 He was a scholar of English, French, German, Sanskrit, Tamil, and Marathi. His several works in Indian languages such as Sanskrit, Tamil and Marathi reveal that he was a great scholar. He wrote hundreds of songs in Sanskrit and all are set to music and dance and recitals. He is the author of several dance pieces of alarippu, jatiswara, sabdam and padam. He has composed numberless kavuthuvam, slokavarnam, and prabhandas all adopted to Bharathanatyam. Soollukattu swaras jathis and sahityas with their respective notations in Indian swaras are given for every items with meticulous care. Perhaps his collections on Bharatanatyam dances are the largest in the whole of India. Nowhere in India in one single place can be seen such a huge collections of Sampradya Natyam.Such rare types of dances like Jakkini, Perani, Dharupad desi navadadam and Kuravai were in vogue and we have evidence of their being practiced at his court. These types of dances have now become obsolete. He was also praised by Lord Valentia, who visited him in the year 1804 as capable of composing tunes in English. His orchestra comprised of several native and English instruments richly ornamented with diamonds and pearls. His band consists of both European and Indian musical instruments called Tanjore band. He composed songs on several Indian languages capable of orchestration in western musical instruments. Indian Tunes and ragas were set to European staff notation fit to be used on his orchestra. They are recorded in several of his music books Bharatanatya was then at his peak and several prodigies whose compositions are now considered the best that south India has every produced flourished at his court. Tamil Nadu is the cradle of Bharatanatyam, the traditional Bhagavatamela, the oldest type of the drama of the south received support at his hand, to the artists of Bhagavathamela of the villages of Salliamangalam, Thepperumanallur, Needamangalam. Serfoji Rajah gave gifts of land and cash to many of his Chatram Bhagavata melas were attached and provisions were made for them in the Chatram.
He patronised poets and scholars; at regular intervals he used to call for Vidwat sabhas and delighted in hearing extensive poetry, panegrice and discussions on Tharka Sastra and subjects on music and dance. Swati Thirunal Maharajah of Travancore kept contact with Serfoji even before he came to the throne and exchanged scholars, musicians and even their personal compositions. Saint ThyagaRaja Swamigal, Syama Sastrigal, MuthuSwami Dikshitar, the musical trinity were the contemporaries of Rajah Serfoji II.
Serfoji therefore devoted his life interest and wealth for the cultural uplift in spheres of literature, medicine, music, dance, drama and other fine arts which paved the way for an up heaval in art literary and cultural fields.

At the same time, there were no big wars or unsettled conditions at stake to disturb the peace and tranquility of southern regions, instead there was comparative peace prevailing in the region, quite earnestly Serfoji choose this opportunity and strive hard to devote his whole life and resources towards achieving his cherished goal of culture in the south.

It is recorded that Serfoji built boats or doughs fit for coastal ships. The doughs are of no ordinary means but sufficiently big and powerfull. The one such he built at Thiruvaiyaru on the banks of Cauvery. The boat was sent from this river when in full flood to Karaikal, through its tributary Malliyar river, and from Karaikal a sea port town of the French settlement and sailed to SaluvaNayak Pattinam. To take a boat of great size through the small port to open sea is a formidable task and Serfoji made it possible by causing the ship to be towed along the river bank by hefty and strong Maratha seamen Appasamy, Govindarao, Lingoji, Chandra Rao, Harji rao and Subba Rao and others. In appreciation of their feat Serfoji bestowed on them lavish presents. The patriotism of the British towards their own languages and culture, caused some rethinking in Serfoji's mind and he decided to change the English and Persian names for army ranks into Marathi and Sanskrit equivalent even for the drill and command instructions hitherto conducted in English were changed into native languages of Sanskrit and Marathi the rank of the army, cavalry and even the names of musical instruments of the military orchestra were changed. Similarly the drill commands were also changed into native tongue. The Persian names of several of his Mahals and Karkhana (Factory) were also given Sanskrit names.Persian or Arabic mode of address and letter writing were changed into Marathi style. This was a significant move by Serfoji to eliminate non-Indian expressions and substitute purely native equivalents in accounts, correspondence etc. There were many distinguished Marathi scholars and poets who adorned the court of Rajah Serfoji. A number of native physicians, expert in both ayurvedic and sidha systems of Indian medicines were engaged by Serfoji to note down efficacious receipt from the works of ancient authors and compile them into attavanai (compendiums).similarly works on veterinary science were also translated into Tamil and Marathi from Sanskrit text in addition to acquiring a number of Sanskrit manuscripts on jothisa Sastra, kamashastra, alchemy, poisons and their antidotes they were also translated into Tamil and Marathi languages.

In particular he requested his favourite native physician Kottiyam madyast Ayyakannu Pillai to select efficacious receipt from various manuscripts and translate the same into Marathi for the exclusive use of his family.
Serfoji was a connoisseur of food and expert epicurean. He liked good and nourshing food in Indian as well as western style. His favourite cook and chef Ramasamy Subbarayam wrote a book on native food preparation (both vegetarian and non vegetarian) entitled 'Sarabhendra Paka Sastra' and his European butler from Madras Venkatasamy wrote a book on western preparation like salad, soups, jellies, cakes and pastries. An ancient work in Sanskrit on dietetic and cullinery art, Bhojana Kuthuhalam and Annapana Vidhi was translated into Marathi. The above works can be seen in the Saraswathi Mahal Library even today.

He built a huge choultry and Temple at Muktambapuram at Orathanad in memory of his devoted and loyal mistress Muktambal. A sea side port at Saluvanaikan Pattinam a light house at Nagapattinam.In addition, he constructed the Mahamandapam and Arthamandapam in the Sankara Mutt in Kumbakonam, and endowed the Mutt with many acres of lands as mentioned else where in appreciation of this act of piety and devotion Sankaracharaya Swamy, conferred on Serfoji The title of "Sivabhakta Dhurandharan". His patronage not only extended to Hindu religious institutions but also to other religious institutions. He built the Swartz church near Shivaganga garden in memory of Rev Swartz, the St.Peter's church in the land given at Manambuchavady and one diocese (bishopric) in Ammapettai. He also endowed them with grants of lands and cash payments. He gave grants and lands to as many as forty Muslim darghas.A list of such mosques and darghas find a place in his accounts maintained separately for Muslim endowments in modi records of bundle 107/42 of 1828.
A number of AnnaChatrams built by successive Maratha rulers of Thanjavur extending from Thanjavur to Kasi in the north and Rameshwar in the south were under his direct control and administration. Those Chatrams were endowed with thousands of acres of wet lands for their maintenance by his ancestors a few of the Chatrams maintained by him are mentioned below.

1. Muktambapur (orathanad)
2. Drupadambapur
3. Sulochanambapur
4. Rajakumarambapur
5. Mohanambapur
6. NadarChatram
7. Rajasambapur
8. Sakwarambapur
9. Yamunambapur
10. Mahadevapatnam Chatram
11. Malliyam Chatram
12. Annavasal Chatram
13. Panchanadhi Chatram
14. KalyanaMahalChatram
15. Mohanambapur
16. Sydambapur
17. Kailasa MahalChatram
18. Vennar Chatram
Each Chatram was under one Dimmat [Head of the Chatram] where food was severed to travellers and poor several charities of this kind were performed. Schools, Hostels, gymkhana (place of assembly) etc were attached to the Chatrams. Here, education was imparted to all pupils irrespective of their caste or creed.Pregnant ladies were given rations, milk and oil from their 7th month of pregnancy upto the month of delivery. In fact this facility was even available to the travellers and they were allowed to stay from the seventh month till a few months after delivery.
Printing Press

The Maratha Kings started Chatrams for catering and other physical needs of the pilgrims. Raja Serfoji II started school attached to the most of the Chatrams under his control and imparted free education to village children.For the use of little children, Serfoji ordered that the English book like Aesop's fables to translate into simple Indian languages. He started the first printing press in 1805 in Thanjavur with Devanagari script called "Nava Vidya Kalasala Varnayantra" for producing copies of all great works in languages for wider use and circulation among public. The journal entitled 'Indian Antiquary' volume-1, published in 1872 mentions that the Serfoji's printing press was the earliest printing press, which was started for Devanagari script printing in whole south India. The Types and blocks were prepared using soft stone and hard wood. Even today the Saraswathi Mahal Library preserves some of the books printed in his press.

"The first sculptural memorial for an European commissioned by an Indian." The portrait sculpture of Serfoji II that came out with it in 1807 -- long delayed for one reason or another -- was also a first; the first of an Indian ruler by a European.
When Serfoji commissioned the "monument in marble" to Schwartz in 1802, he stated that it was intended "to manifest the great esteem I have for the character of that great and good man and the Gratitude I owe him, my Father, my Friend, the Protector, and Guardian of my Youth." The sculpture, completed in 1805, cost £1,000 and was installed in Christ Church, Schwartz's old church in the Fort in Tanjore, in 1812. It took five years to get a mount built for it.
The short, almost matter-of-fact inscription on the Tanjore memorial ends with the words, "And the very marble that here records his virtues was raised by the liberal affection and esteem of the Raja of Tanjore Maharaja Serfoji." On the other hand, the granite slab covering Schwartz's grave at St. Peter's Church in Tanjore (once the SPCK Mission's chapel) has this moving verse by Serfoji which Bishop Heber, no mean hymnalist himself, described as the only English poem he knew of, which was written by an Indian Prince "and a very fine one at that":

'Firm was thou, humble and wise,
Honest, pure, free from disguise,
Father of Orphans, the widow's support,
Comfort in sorrow of every sort.
To the benighted dispenser of light,
Doing, and pointing to that which is right.
Blessing to Princes, to people, to me:
May I, my father, be worthy of thee,
Wishes and prays thy SARABOJEE.'
Not long after Serfoji had commissioned Flaxman, the Governing Council in Madras decided to commission another memorial for Schwartz, who had been a negotiator on behalf of the British with Hider Ali and Tipu Sultan. This sculpture by Bacon Junior was installed at St. Mary's in Fort St. George in 1807. Curiously, both sculptures have Schwartz on his death bed. In the Tanjore sculpture, the focus is on a sorrowful Serfoji standing by his mentor's bed, one hand behind Schwartz's head and the other holding his hand while Schwarz looks at him.
Engineering
There are records to show that he was keenly conscious of his duties. He launched a grand plan of laying the drainage construction covering the whole city including the smallest lanes and it had caused him a pretty lot from private funds. The same drainage system built by him under the charge of his officer "Mankoji Gade" and his koteval Nagalinga servaigal between the year 1825 and 1828 A.D is doing service even today without much alternation.

He also made provision for water supply by doing repairs to the reservoir known as "Sevappa Naickan Tank" outside the fort and he protected the Shivaganga tank and renovated a filtering canal called 'Jalasutram' leading from the reservoir to the Shivaganga storage tank, he also constructed underground feeder channels from the Shivaganga tank. he also constructed 10 tanks with well's situated in the city, even today several wells in the city both public and private require direct water supply from the Shivaganga tank. Rain water harvesting techniques in Tanjore were also made by him during his reign.
Interests & Hobbies of Serfoji:
Coin Collections of Serfoji II
He was a numismatist. i.e. fond of collecting coins of all denominations of various countries of the world. There were as many as 100 varieties and they consisted of bronze to gold coins. It will be interesting to give an account of the coins that were minted and used in Thanjavur by the Maratha rulers. A coin called phanam was considered equivalent to the 50 naya paise.
One phanam was sufficient for a poor person for one month to subsist. As such an allowance of this denomination, secured all the food needs this illustrates the prosperity of those times.
Serfoji's coins collection was so renowned that after the death of Serfoji, the governor of Madras requested Serfoji's son Shivaji II to send the rare collections of his father to Madras in his letter dated 16th December 1854 for an exhibition at London. The coins were sent by Shivaji II through the resident mister john Forbes with the list of gold, silver and copper coins.
Wrestling
Serfoji was a good wrestler. He learnt wrestling during his boyhood and continued the same physical exercise when he was at Madras, until his coronation in Thanjavur. He had a number of wrestlers called "Malluge Jetti" Vastad who hailed from Karnataka. His favourites were given gold armlet as a mark of honour. He organised wrestling bouts and conducted matches with visiting Phadawans. He encouraged this to such an extent that Thanjavur had a number of Thalimkhana or Godha (practice ground) in different parts of the city and outside. Every educational institutions attached to his Chatrams was equipped with a Thalim (practice ground) for physical exercise of the pupils. Vastads(trainers) were appointed to teach wrestling to boys and they were well paid and fed. He patronised fencing and archery similarly. He encouraged Silambam (fight with sticks) an ancient martial art of Tamil Nadu, useful for defence purposes.
Shikar (hunting)
Serfoji II was fond of hunting and frequently he went on shooting trips. He bagged tigers, deers, boars and birds.

He had a number of muskets and guns in his personal armoury brought from Europe and his European friends. He maintained a half a dozen reserved forests where he went for hunting.

The records show that he shot a number of tigers in the vicinity of Thanjavur and the population gave him enthusiastic orations on his return with the Trophies. He had also a few hunting cheetas trained for hunting deer's and boars.

The cheetas or leopards were trained in stalking, so that the deer can be caught alive.
Falconry
He reared a number of falcons (Baj pakshi) which were also trained in hawking smaller games like rabbits, iguana and birds.

He adorned the cheetas and falcons with gold collars and anklets of the legs.Trainers and attenders were appointed to look after them in order to treat them for illness, he caused Arabic and Urdu works yujanamak (for cheetas) and Bajnamah (for falcons) were translated into Marathi for his use.It was recorded that his favourite falcon was brought from the Nawab of Devagiri by Bhujanga Rao, Hari Rao, his courtier.

Falcon was a favourite pastime for the Kings and nobles of those times he held competitions and many times he invited European dignitaries and the Thondaman Rajah of Pudukootah to witness his cheeta's and falcon's hunt.
Bullock – Cart Racing
He encouraged Bullock-Cart racing and several members of the public participated in the competition.The race was known that as "Rekhlaw Race". He also got a treatise written on the art of Rekhlaw competition called "Hehatula Tumani" in Marathi which prescribed rules for the same with details on training and usage during the actual competition. There were many works on prescriptions to treat the illness of racing Bullocks.
Horticulture
One of his hobbies was gardening. He developed the Shivaganga garden by planting several kinds of trees imported from Europe and some huge trees can be seen in his garden even today. He brought flower and fruit seeds during his wide travels and used them to enrich his gardens. His two other gardens are Huzur Mahal and Dastan Mahal gardens which were adjacent to his Sadar Mahal Palace.

There were ponds in the garden stocked with multicoloured fishes, one 'pallikondan' a horticulturist trained at Madras was made the head gardener and he was supervising Rajah's garden. He authored a book on horticulture especially on grafting and the usage of fertilizers and soil maintenance.
Collection of Antiques and Curious
His one more interesting hobby was collection of old curious and scientific and useful articles of western countries which were not available in Thanjavur. He collected various first edition books in English and other European languages which were printed at that time. He requisitioned such book as soon as they were published in Europe and got them shipped. Lord Valentia visited Thanjavur on 29th January 1804. He records in his account of travel that he met Raja Serfoji and saw his Library, his private museum, musical instruments and other valuable articles kept in his Palace. He says that Serfoji had one octagonal carriage with exquisitely carved windows with an organ that played sweet musical notes as the wheel went round with a clock and a machine to mark the distance travelled (speedometer).

He had also assortment of many viz, an electrifying machine, air pump, astronomical instruments, arrow work, guns of different bores, gold and silver encrusted tables, desk and almirahs inlaid with silver and gold a rare valampuri cone of big size, watches and rare clocks, western musical instrument, velvets from Italy, razor, and pomades from England, costly almirah and Arab swords, rare paintings, cut glass chandeliers and hallmark silver candle stick. Similarly Lord Bishop Herber, Dr.Buchanar, Bishop Middleton have also recorded about Serfoji's museum and two skeletons one of bone and the other of ivory.

Bishop Heber notes with astonishment that one cannot distinguish between the real bone skeleton and another one made in ivory. He had four Karla's of solid pure ivory used by him during physical exercise, which was his daily routine.
Painting
Yet another important hobby was painting. He painted several pictures and views of buildings.

Bishop Heber and viscount valentia in their travelogues record that they have seen paintings executed by Serfoji and his table was full of painting materials used by the Rajah. Modi records contain enteries of expenditure incurred in connection with import of paints or materials like paper, board, paint brushes and every kind of implements used for drawing. Serfoji was not only an artist in his own right but also had under his employment several outstanding native artists who painted with water and oil colours namely kuppa artist, Anna chitrakara, Sarangapani, a favourite of the Rajah who worked on stucco and stone in laying works on pictures was a good sculptor. He painted 18 caste people in uniforms of several military ranks from the sepoy to the commander in chief and palanquins and sedan chairs, falcons etc.
OPHTHALMIC CONTRIBUTION OF RAJAH SERFOJI II:
In Thanjavur,King Serfoji II carried out methodical ophthalmic practices between 1798-1832. Both European and Indian medicines were used.
Cataract surgery was performed. Detailed ophthalmic records were maintained. The only evidence of Serfoji's amazing contributions to medicine lies in 50 charts and manuscripts. They contain hand written case histories (38 of these written in English) of the patients operated by King Serfoji starting with the diagnosis of the disease. These records contain minute personal details of the patients. He may have sought no recognition or won no awards but if one can find the time and pause to consider the vastness of his humanitarian efforts. One will understand the magnitude of his achievement this could be found in the simplest of his actions. To King Serfoji goes the credit for the encouragement of research in his medical institution called 'Dhanvantari Mahal'. He is said to have appointed many siddha, Ayurveda and unani physicians of repute not only from India but from Foreign Countries also. The institution also has a separate research department for Animal husbandry. Many drugs tested for their curative efficacy were the resultant features of the successful attempts of the discoveries and experimentation by these doctors. These have been recorded in a series of works in Tamil called "Sarabhendra Vaidhya Muraigal". Serfoji was a scholar,philosopher and humanist. His Dhanvantari Mahal, a hospital that took care of patients of all specialties, a research institute, which produced herbal medicine for humans and animals. His contribution towards medical field was extraordinary. Herbal gardens were maintained and also detailed case sheets were maintained in the dispensary. He also published many books on various diseases and methods to cure those problems. He has published books on surgical equipments, which is necessary for surgical procedures.

A book on various health problems compiled as "Sarabhendra Vaidhya System" and published by Serfoji II is one among the best. This book dealt with several Diseases such as Diseases of Pregnant women and Children, Diseases of eye, Diseases of nerves and Joints, Stomach Trouble, Diabetics and other urinary diseases, poisonous bites and drugs, Asthma, caugh and so on, Delirium and Anemia and Jaundice.King Serfoji II also built a pharmaceutic godown, Aoushadha Kothari where pharmaceutic products were stored on a pilgrimage to Kasi (Benaras) the King took with him 8 boxes full of medicines and one box full of medical instruments to do surgery. Serfoji took special care to treat eye ailments. It is said that the King himself was an expert in treating eye diseases and in performing cataract operations.Image shows a sample of the records maintained by Serfoji of the eye surgeries perfomed in the Dhanvantari Mahal. Many were said to be performed by him. Each patient had a detailed case sheet that recorded date of admission, treatment given and condition at time of discharge. The conditions of the eye are drawn at the top of the sheet.
Raja Serfoji was extremely pious in spite of his exposure to occidental culture and association with British people for a number of years. Many a missionary cherished a wishful thinking that some day Serfoji can be converted to Christianity. He was a devoted and respectful to the European missions, as he was to Hindu religious heads and to his native region.Nevertheless his endowments and charities to Hindu Temples and institutions far surpassed his endowments to Christian causes. The first Temple renovation of building activity of Serfoji began with the Kumbhabishekam to the big Temple or Brahadeshwara Temple in the third year of his reign. This was his gesture of thanks giving to the lord Shiva for having got back his throne, after big struggle. The consecration of big Temple was performed with great pomp and splendour. Simultaneously in 1801 he built the Vigneswara Temple, and provided the Artha and Mahamandapam. He further laid brick flooring through out the Prakaram (corridor).

He also installed 108 lingas brought from several places in the outer Prakaram (corridor). He gave valuable jewels, gold and silver vessel and Vahanams like two silver Rishabha, Kamala, Vahanam etc. The details of these offerings are inscribed on the outher walls of the Vinayagar Temple in Marathi. In this context it would be worth while mention here that he ordered that details of the history of Maratha Kingdom and dynasty be inscribed on the walls of the outer corridors of Thirumalapathi (Thirupathi) in Marathi entitled as "Bhonsla vamsa chartitram" in 1803 A.D. here the benevolences and the history of the Maratha dynasty beginning with his common ancestor Shahaji the father of the great Shivaji, entire details of Maratha rule from Venkoji the founder of the Thanjavur Maratha Kingdom upto the 3rd year of Serfoji's reign were inscribed. It is also noteworthy that no where in India such details of history at a stretch can covering the reign of more than 12 rulers be available. One might come across descriptions of several endowments and charities or military exploits of one or odd rulers but never a continuous history of a full dynasty of 12 Kings who ruled over Thanjavur. Serfoji has the distinction of having recorded his dynastic history in stone inscription in chronological order, bristling with interesting and true anectides. The Rajah Mandapamas it is called now before the Shrine of Subramanya Swami was also built. The frescoes of Maratha Rajah's are adorning the walls of the Mandapam even today.
He built the Shrine of Vithoba in the east main street in front of the Palace main gate in 1819 and installed the idol of Vithoba brought from Pandharpur in commemoration of his pilgrimage to Kasi, he constructed the Manikarni keshwara Swami Temple in the same street in front of Sankara Vilasa Palace. While he was in Kasi he built a ghat or bathing place on the banks of Ganga River and consecreted it as Manikarnika ghat. He renovated the Temple of RamaSwami in west main street (Vijayaramar Temple) and gifted a huge wooden car and the inscription in respect of this gift found in that Temple is dated 1805.

The Marathi inscription in Ellaiammankovil in the city reveals that he built the ardha and mahamandapam and installed the favourite goddess Renuka Devi, widely worshipped in Andhra Pradesh, Karnataka and Maharashtra. He built Ratnagiriswar Temple in the north main street and installed the linga brought from Varanasi (Kasi). Maharajah Serfoji has also built Narthana, Maha and Nandi mandapams. The Maratha Rajah's were maintaining honours of Temples. Twenty two Chatrams were being managed by Rajah Serfoji. The Chatrams held vast lands as endowments consisting of 76 Srotriyam villages and large treats of topes and gardens covering an aggregate area of 40,000 acres of fertile lands in the rice bowl of the south.Even in his weak state of health he visited his Library located in Saraswati Mahal which was his most precious treasure. On seeing some of the cloth covers on the manuscript bundles torn and decaying, he at once ordered that all that old clothes are to be replaced with new and durable ones for preservation of the manuscripts. Perhaps this was his last act of public importance. The glorious reign of an enlightened scholar King had ended after 34 years of rule.

He was born on 24th September, 1777 and he died in his 54th year leaving behind a monumental heritage to the posterity in the shape of the Saraswathi Mahal Library. Many a dynasty of Kings ruled over Thanjavur and none had left an indelible mark on the people to remember their names except the great Chola King RajaRaja and Maharajah Serfoji II by the their monumental edifice and treasure houses as the great Temple and "Saraswathi Mahal Library". He also went on a Cauvery yatra in 1801, a two month pilgrimage covering more than 100 Temples situated along the Cauvery river.it is said that the King performed the ritual consecration of 108 Shiva lingas in a colonnade of the 11th century Brahadeshwara Temple after the pilgrimage. A court poet called Siva wrote a poem in Marathi titled "Sri MaharajSarabhendratirthavali" (sequence of KingSarabhendra's sacred places).

Chatrams
Chathrams is also known as rest houses, the practice of building it is an ancient Indian custom. Considered an act of piety, the rest houses were usually built on the roadside near important places of pilgrimage. The Marathas built several chathrams mostly on the Thanjavur-Rameswaram route. Each Chathram was allotted vast tracts of land so that they would provide meals for the wayfarers apart from a place to rest.

The superintendents of the Chathram always descended from the elder to the younger Queen and on the death of the senior Queen descended from the elder to the younger Queen and on the death of the senior Queen descended to the wife of the reigning King.Some, like the Orathanadu and Tiruvaiyaru Chathrams were grand constructions, while others are more humble, utilitarian constructions.

In addition to food, Chathrams also provided religious education and medicines for Travellers. Much of our information on Chathrams is from Modi documents. Many of these documents record grants made to the Chathrams. Others talk of remedial measures taken after surprise checks made by the officials. Most of them are in various states of disrepair today. Chathrams were usually named after the Queen of the King who constructed it, or the King of the village it was situated in.

Many Queens through generations had similar names. Records do not always mention the location of the Chathram and tend to use different names, and so preparinga comprehensive list of Chathrams is impossible. We have tried to list the important Maratha Chathrams.
| | | |
| --- | --- | --- |
| Name | Area | Founder |
| Rajakumarabaayi Chathram | Soora-k-Kottai | Tulaja I |
| Rajakumarabaayi Chatharam | Mimisal | Tulaja II |
| Mohanambalpuram or  Rajamadam Chathram | Rajamadam | Tulaja II |
| Draupadambapuram Chathram | Mamelkudi | PratapSingh |
| Rameswaram Chathram | Rameswaram | Tulaja II |
| Sulakshanambapuram Chathram | Velangulam | Tulaja II |
| Rajasambalpuram Chathram | Darasuram | Tulaja II |
| UmabaiSahib Chathram | MahadevaPattinam | Tulaja II |
| Muktambabai Chathram | Orthanadu | Serfoji II |
| Ahalyabai Chathram | Malliyam | Serfoji II |
| Kasankulam Chathram | Pattukottai | Name of builder not known |
| Setubava Chathram | Setubava | PratapSingh |
| SakwarambaBai Chathram(Amma Chathram) | Tribhuvanam | PratapSingh |
| Lakshmi Rajapuram Chathram | Palliaghraharam | Amrita Rao Ramoji Rao ghatge (Brother in law of Serfoji II) |
| Nachiarkoil Chathram | Nachiarkoil | Shivaji II |
| Sreyas Chathram,also know as The Thanjavur kottai Anna Chathram | North gate,Thanjavur | PratapSingh |
| Raja's Chathram | Vennatrankarai, Thanjavur | Name of builder not known |
| Annadhana Chathram | Vennetrankarai, Thanjavur | PratapSingh |
| Chakuarambabu Chathram | Exact location not known | Name of builder not known |
| Panchanada Mohanambalpuram Chathram | Thiruvaiyaru | Name of builder not Known |
| Malliyam Chathram | Exact location not known | Serfoji II |
| Sayidabapuram Chathram | Near Soora-k-kottai | Extensively renovated by Serfoji II |
| KalyanaMahal Chathram | Thiruvaiyaru | Name of the builder not known |
RAJAH SERFOJI GAVE GREAT IMPORTANCE TO THE CHATRAMS, ENDOWMENTS AND INSTITUTIONS AS COULD BE SEEN FROM THE FOLLOWING EXTRACTS FROM A LETTER WRITTEN ON 28TH JANUARY 1801 BY RAJAH SERFOJI TO THE BRITISH RESIDENT OF THANJAVUR, WHICH IS PRESERVED IN HIS LIBRARY AT THANJAVUR.IT READS THUS:
"Although these charitable institutions did not orginate with me,I considered these as attached by my house and essential to my reputation and happiness. The Thanjavur country is celebrated over all the world for its charities and it is called dharma rajyam,and I consider the reputation which reverts upon me through all countries from this application as the most honourable distinction of my work. The reverences appropriated to the support of these charities by my ancestors and my father tulaja Rajah,have never been included in the public revenue of the country.they invariably cherished and supported the charities,it is my earnest wish to do so. Though named after the ladies of the Palace,the chatrams were always under the direct management of the reigning Rajah".