MAHARAJAH PRATAP SINGH
H.H.Cholasimhasanathipathi Srimant Rajasri Maharaja Kshatrapati Pratap singh Rajesaheb Bhosle was the second son of king Tukkoji. He ruled Thanjavur from 1740-1763 A.D.King Pratap Singh was brave, handsome and strong. He was not only a great soldier and a military strategist but also an accomplished scholar. His first act was to perpectuate his mother's memory. He built an Agraharam and Temple near Pattukottai and named it after his mother as Umambapur attached to Maharaja Samudram village and endowed about 4000 acres of land for the benefit of the residents of the agraharam in the year 1740.
King Pratap Singh was consummate diplomat. His whole life was preoccupied in military engagements and dealings with the shifting manauors of Europeon settlers at fort St George Madras and the French settlement at Pondicherry, who were after military conquests in India. At that time the Moghul power was on the wane and the Deccan and Carnatic nawabs practically were eliminated after the death of his elder brother, Ekoji II. Three years of uncertainty, plots and counter plots within the Palace ended with the accession of Pratap Singh.
King Pratap Singh being a man of iron will and strong hand took step first to remove the discarry prevailing within the place and in proper time he proclaimed death sentence on Sayyed the self styled King maker and the arch conspirator and father in law of Chanda sahib who poisoned Queen Sujan bai to death. He maintained cordial relationship with his aganatic Chatrapathi Shahu Raja of Satara and Sambhaji Rajah of Kolhapur. Shahu Chatrapathi sent a strong force under Fatesingh Rao and Raghuji Bhosle to the south and they captured Chanda saheb and took him as a captive to Satara. After the capture of Chanda sahib and Trichinopoly (Trichy) by Fate Singh Rao, the territories of Chanda sahib including Trichy were offered to Pratap Singh by FateSingh to rule but Pratap Singh unwisely refused this offer and lost an opportunity to expand his territories and subland, and subvert muslim expansion. Just like his grandfather Venkoji who refused his elder brother Chatrapathi Shivaji's offer of hand of friendship to establish a Hindu rule over the southern territories which were in the hands of Deccani and Carnatic nawabs.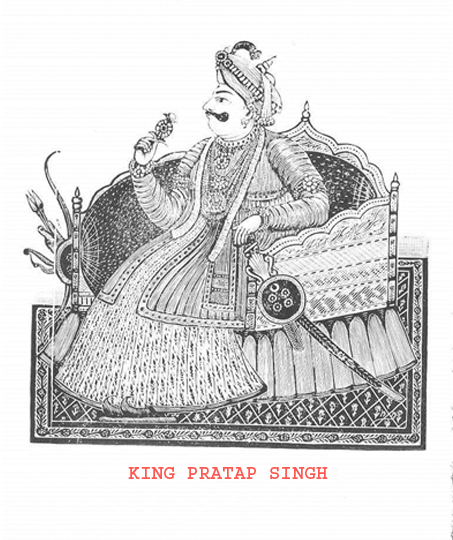 His rise of power followed three years of an anarchy and civil war and restored the state to its previous greatness. His reign witnessed the Carnatic wars and the seven years' war.His life was eventfull and highly fruitful to his subjects since he brought peace out of confusion prevailing at his time, his court was flocked with learned Pandits in Sanskrit, Tamil, Telugu and Marathi. In spite of his preoccupation in military operation he found time to further the cause of literary and cultural advancement of his people besides patronising men of letters. He himself wrote a number of works in Sanskrit and Marathi on various subjects like Puranas, Dramas, Kamashastra. As many as eleven Marathi dramas are attributed to his royal pen besides Krishnamanjari a work on Bhagavat, Ramadinacharya, Umasamhita, MadanaSanjivani are some of his outstanding works. Some of his court poets are Jaganath BalaKrishna the author of Gnaneswari,Tippan Thriyambaka Bhat whose work is Kalidharma Prasamsa, Mahadevasutha author of Kalividambana, Ramanatha author of Prahladha Charita and RamaKrishnaKavi who wrote "PratapSimha VijayaPrabhandha" (Regarding the defeat of dost Ali Khan by Pratap Singh).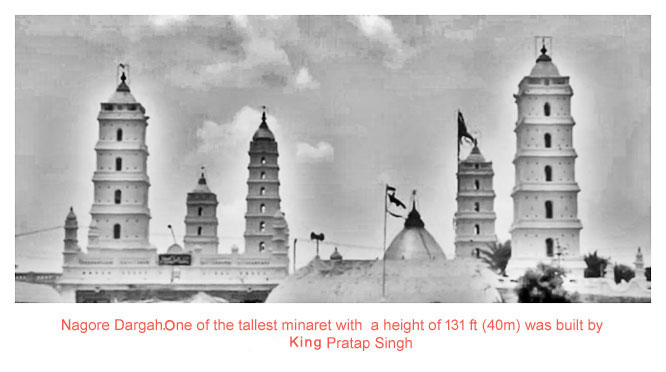 King Pratap Singh Built one of the Minarets at Nagore Dargah. Nagore Dargah which is also called as Hazrat syed Shahul Hameed Dargah is a dargah built over the tomb of the Sufi saint Hazrath Nagore Shahul Hamid (1490-1579 C.E). It is located in Nagore a coastal town in the south Indian state of Tamil Nadu. The Hindu Maratha ruler of Thanjavur, Pratap Singh built one of the five and the tallest minaret (called periya manara locally) with a height of 131ft (40m)when his wish was fulfilled. The Marathas of the later period were patrons to the dargah. With the Maratha King Tulaja II, the son of Pratap singh, donating 4,000 acres 91,600ha of agricultural land to the dargah. Then the Maratha King of Thanjavur endowed the village called Elakadambanoore as his gift. Then king Tulaja II presented 14 other villages to Dargha as his gift. During the last quarter of 18th century when there was conflict between European powers, the nawab of arcot, the Maratha Kings and Tipu Sulthan of Mysore over the Thanjavur region, the dargah was considered strategically important by all of them.
During the muslim invasion and occupation of Kanchipuram and the surroundings, King Pratap Singh brought Jagad Guru Shankaracharya Swamigal of Kanchi Kamakoti Peetam to Thanjavur and provide him a Mutt at Kumbakonam endowing it with 27 villages for its maintenance he endowed 15 villages similarly for the up keep of the Nagore muslim Shrine. With the help of British he was able to cripple the French and after him the French power began to decline in the south. King Pratap Singh was an independent King and he was addressed by the Europeans as his majesty. He died on 16th December 1764.