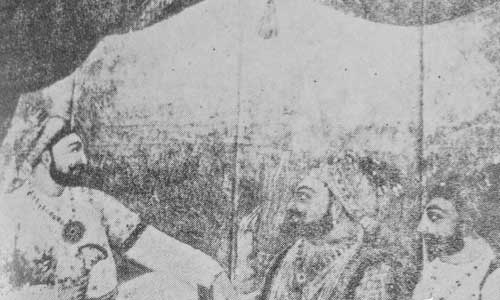 The Great Maratha Scholar King of Thanjavur, Shahaji II (1684- 1712 A.D)
---
King Shahaji II was famous for his contribution to music,dance and drama. He was a valiant ruler and during his tensure,the country expanded upto Ramanathapuram.
> He was born at Bangalore in 1670 A.D.
> He came to the throne when he was 14 years old.
> His mother Deepabai and his father's (King Venkoji alias Ekoji) ministers were his guide and mentors.
> He was well versed in Sanskrit, Telugu, Marathi, Hindi, Persian and Tamil languages...
Swami Samartha Ramdas visit to TamilNadu and orgin of Harikatha and Samartha Mutt at Thanjavur
---
In 1677, Samartha visited Thanjavur, and left behind his disciples, who went on to establish mutts in Thanjavur. The earliest of these is called locally Peria (big) mutt, and Anantha Muni established a mutt in Mannargudi and Raghava Swami established one at Konur.
In Thanjavur, King Venkoji made him to stay at Samandan kulam where the first Samartha Sampardhaya mutt was installed by Samartha Ramdas. It is also known as Bheemaraja Goswami Mutt (Big mutt). Samartha's disciple Bheemaswami Shahapurkar was the incharge of that mutt...
Click here for more article