MAHARAJAH SERFOJI I
Third King of Thanjavur, H.H. Choladesadhipati Srimant Rajasri Maharaja Kshatrapati Sri Serfoji I Raje Saheb Bhosle ruled Thanjavur from 1712-1728 A.D After the death of Shahaji II in 1712, he having no issue of his own succeeded by his brother Serfoji I, who was his representative at Shahakottai fort a few miles west of Kumbakonam, his other younger brother Tukkoji was similarly a representative of Shahaji at Mahadeva Pattinam fort near Mannargudi. Serfoji I ruled Thanjavur with the help of his brother Tukkoji. He followed his later brother Shahaji II's domestic policy and in foreign affairs he took part in the politics of Ramnad Sethupathi in a war of succession between the sons of Kizhavan Sethupathi of Ramnad. Serfoji I placed Bhavani Shankar on the throne and divided the Sethupathi's territories into three parts, one taken by Serfoji, the other to the Ramnad Sethupathi, while the third was made into a new zamindari of Sivaganga. The expendition to Ramnad was ably conducted by Serfoji I's general Ananda Raya Peshwa who served Shahaji II previously and after Serfoji I he served the last brother of Shahaji II, Tukkoji.
During his period the dam of Kallanai came into disrepair and Serfoji I was prevented to carry out the repairs by Nayakas of Madura who had shifted to Trichy as his capital. Serfoji I threatened invasion and hence the Nayak permitted Serfoji I to carry out the repairs and avoided further famine in his country.
Serfoji I was by nature pious and intensely religious and endowed agraharam like his brother, scholar King Shahaji at Thiruvenkadu, mangamadam and at Serfojirajapuram in Thirukkadiyur. He was himself a scholar and patronised several scholars in his court. 'Raghava Charitam' is his work. Some noteworthy scholars of his court and their works are Bhagavant Raya's Sachidananda Vilasa, Raghunatha's Narakavarnam and Vittala's Rukmini Swayamvara slokas, and all these three authors work are in Marathi. Anandaraya Makhi's (his minister) Vidaya Parinaya and Aswalayana sutravrithi, Anantha Narayanacalled by Serfoji I as Pancharatna Kavi wrote Gita Shankaram and Saraboji Charitam.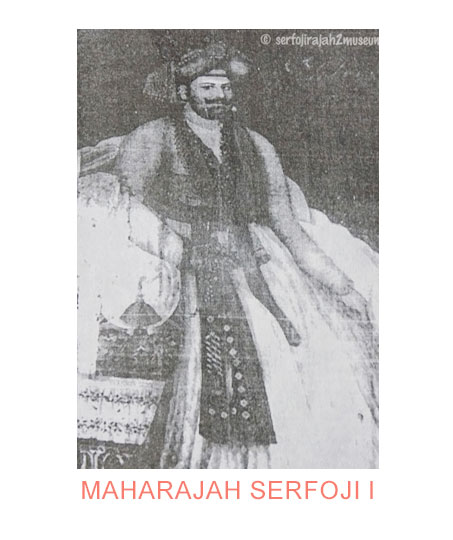 Poet Venkateswara called by Serfoji as sahitya Bhoja wrote Sabapathy Vilasa and Bhosalavamsavali, NilaParinayam, Raghavanandam etc. Raghunatha Panditha wrote SarabhojiRajaVilasam, AnangaVijayam, and Sringara Tarangini. The Telugu scholars who adorned his court are GiriRajaKavi, who served Shahaji also his work is Lilavathi Kalyanam, Tenali Arumayya wrote Sudarnasa Pariyam, Paramananda, Yathindra Thirtha composed Dottalim Satakamu, Mannaru Satakamu, Mukti kanta Parinayamu, Bhrahma VidyaSudarnavamu and Viveka Chintamani are some of the outstanding Telugu works of his times. A Tamil work by name Shivaji Charitram was attributed to his period. Even though Serfoji married three wives he did not beget a son. He was strict disciplinarian and spared none wheather high or low for any breach of rules. He imprisoned his own minister, Ayyavayan a scholar and poet for illegal use of government funds and his rule was praised by his people. He was a daring warrior and subdued the chieftain of Ramanathapuram as well as the Nayak of Madura. He wrote the work Ragahava Charita. Serfoji died issueless in 1728 and was succeeded of his younger brother Tukkoji alias Tulaja Rajah.