H. H. of Thanjavur
1) SERFOJI RAJAH III (1855-1903 A.D)
Prince Serfoji Rajah III adopted by Maharaja Shivaji II was the son of Maharajah Serfoji II's daughter Sakwar Baisaheb married to Pratap Rudra Mane Ingle. Rajaram Ingle was named as Rajah Serfoji III was accorded all facilities as a Prince and grand arrangements were made for his stay and education. He was lodged in Sankara vilas Palace and special staff and royal dignitaries were provided befitting his rank. He was given good education and he learnt several languages including his mother tongue Marathi. He was a good musician of both south and north India. He led an austere life and patronised art and culture. He learned Carnatic music under Mahavidwan Narayana Swamiappa and BharathaNatyam. In his period, many Vidwans were encouraged by Serfoji III. He was interested in music and dance and to learn classical music, Mahavidwan Narayana Swamyappa was appointed. He also encouraged BharathaNatyam art. During his time, 14 artists from Baroda and Rajah of Bhavanagar visited Thanjavur and they liked Tanjore culture and art of sangeet, BharathaNatyam etc.And purchased books of those arts and published at their own states. Baroda Rajah Sri Sayaji Rao Gaekwad exchanged an expert in BharathaNatyam Kanthimathi and arranged that family to live at Baroda and the family supported till now by the Royal family. He was under the protection of the Queens till his demise on 7th September, 1903.
He married two wives at the same time Yamunamba Bai sahib and Ahilya Bai sahib and through them a number of children were born, Yamunamba bai sahib had one son Shivaji Rajah II residing in Huzur MahalPalace. He died in 1927 A.D after leaving issues. Whereas Ahilaya bai sahib got one son Pratapa SimhaRajah Sahib. He and his descendents are staying in Sadar Mahal Palace which was built by Rajah Serfoji II in 1824 A.D.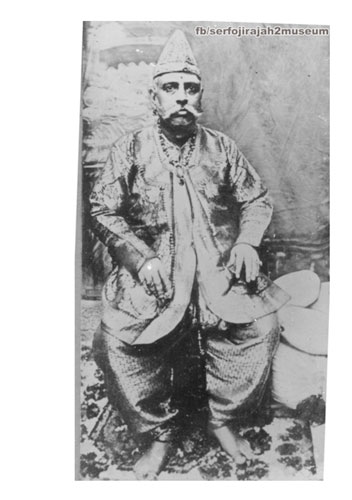 2) PRINCE PRATAP SIMHA RAJAH (A.D 1889-1969 A.D)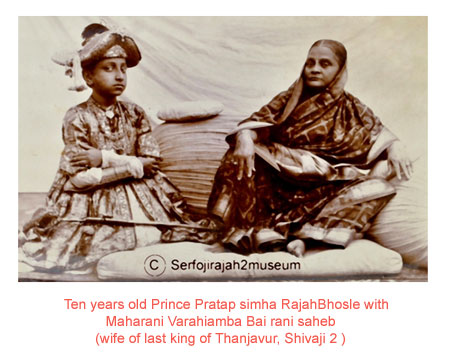 H.H Prince RajaShree Srimanth Pratap Simha Rajah Bhosle, son of Serfoji Rajah III, was born in 1889 A.D. He studied English and Tamil languages under Sri N.P SubramanyaIyer and Marathi from Swami Rao. He also learnt horse riding and gymnastics. He learnt and mastered Veena and Carnatic music. He encouraged and enjoyed hearing music of the Maharashtra Vidwans Kirtakars such as KasiKerbhuva, Sri JanardhanBhuva and Vishnu Digambar and Harikatha experts from Gwalior Raju Biya and other from north India. They were given costly presentations like gold toda etc as a mark of honouring the experts. He arranged performances of music Harikatha in his Sadar Mahal Palace. Dramas in Marathi, and Tamil were also encouraged by him. Krishna vilas tank which was remade as garden by British inside Palace complex were used to conduct dramas. Tamil drama of Kannayya Company and sanglikar of Maharashtra Drama Park were arranged and they were rewarded by Prince Pratap Simha in Sadar Mahal Palace. He was a staunch devotee of Kanchi Paramachariyar Sri Chandrasekhar Swamigal and offered as a gift of building from his estate share, now known as 'Sankara Madham' in the west main street Tanjore. Vinoba Bhave (Vinobaji) a social reformer, also an advocate for non- violence and human rights was approaching land owners to donate lands to landless poor. Prince Pratap Simha Raje Donated two portion's of his land in estate for the landless poor. He served as the main donor and life member of Saraswathi Mahal Library and improved the Library. He donated old books and modi records to the Library. He was a landlord and also a great philanthropist. Donated many of his private lands to government and to the people for a good cause. Saraswati Mahal Library was under his private property. Due to lack maintenance he gave one lakh rupees to the government and handed over the Library to them in 1918. During indo-china and indo Pakistan wars Prince Pratap Simha donated two lakh forty thousand sovereigns of golds and many pistols and guns to the government of India. To receive Madras chief minister Baktavachalam came to Sadar Mahal Palace twice. Pratap Simha Rajah was married to Sulochana Ranisaheb and had two sons and two daughters, elder son named Prince Tulajendra Rajah Bhosle and younger son name was Prince Maloji Rajah Bhosle. Pratap Simha passed way in 1969 A.D.
3 ) PRINCE TULAJENDRA RAJAH BHOSLE (1916-1999 A.D)
RajaShree Shrimant TulajendraRajah Bhosle son of Shrimant PratapaSimha Rajah Bhosle born on 30th September 1916 and he had his early education in the Maratha school and Kalyana Sundaram high school at Thanjavur, under Shri O.Appasamy Iyer, Linguist and scholar in English and French, ShriRajam Iyengar B.A, B.T. headmaster, and the osophist Shri Sundaram headmaster, who taught mathematics & science, Shri Ulaganatha Pillai, Tamil Pandit etc.
He was well versed in Tamil, English, Marathi and Hindi languages.
As a descendant of Maharajah Serfoji II, he had more knowledge of the history of the Marathas of Maharashtra and Thanjavur. He was a political pensioner as per G.O 1913 and the senior most member in the Royal family. He was holding the position of board of Governor (Life) of the Saraswati Mahal Library and member (Treasure) of the Art gallery Thanjavur.
He is a lover of Tanjore art and he himself worked on many royal portraits. He was interested in collecting coins and playing games particularly Tennis and badminton. He was holding many positions in various fields.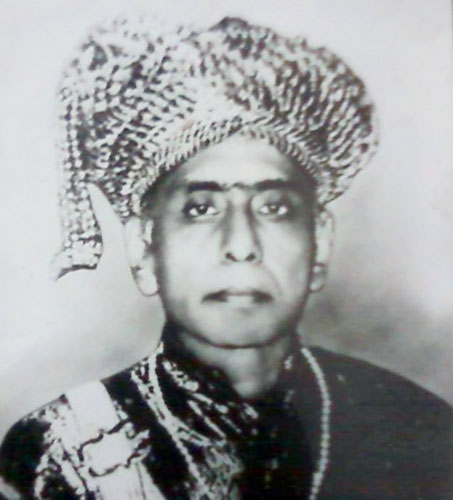 - Thanjavur District court receiver as per O.S No 3/1919 for Kottur Thottam estate (Royal Family Estate)
- Heriditory Trustee of Mathosri H.H Anusamba Bai saheb Trust (Private) Thiruvaiyaru.
- Heriditory Trustee of Shri Vedapureeswara Swami Temple lands in Thiruvedikudi endowed by his father Pratapa Simha Rajah.
- Patron, southern Maratha central Association Thanjavur.
- Chairman Marathi Abhyas parishad Thanjavur.
- Life member, Bruhan Maharashtra mandal, New Delhi and 40thBM mandal conference committee chairman, held at Thanjavur during 1983-84.
- Chairman, Senior Citizens Council, Thanjavur.
- Life Member, Maharashtra samaj and chairman of the building fund, Thanjavur.
- Founder/chairman of the Maharajah Serfoji II's memorial hall, at Sadar Mahal Palace, Thanjavur.
- President and hon. Magistrate second class bench court, during 1950 to 1954, Thanjavur.
- Executive officer H.R and C.E dept for Abhayavaradeswara Devasthanam, AthiramPattinam, Veerasingampettai, Pattukottai etc, Temples from 1954 to 1967. During his period he conducted Kumbhabisekam of these Temple.
- President, Thanjavur town congress (I) committee during 1971 and 1973 and was continuing as a member of the district congress (I) committee. In his time he conducted zonal conferences in Thanjavur, Trichy and south Arcot districts.
- Member, selection committee for appointment of vice-chancellor to Tamil university, Thanjavur in 1981.
- President, parent teacher's Association, Rajah's higher secondary school, Thanjavur.
- Director, housing mortgage society bank, Thanjavur from 1965-1985 A.D.
- He also wrote a book named "Rajah Serfoji II" with a short history of Thanjavur Marathas and was released in 1995 A.D. He died in 1999 A.D, he was married to sow Jayamalabai alias Ahilambabai Daughter of Sardar Vyankatarao Naik Nimbalkar (Phaltan) of Gwalior and has five sons and one daughter.
4) H.H PRINCE SRIMANTH SERFOJI RAJAH BHOSLE
H.H Prince Srimanth Serfoji Rajah Bhosle born on 10/7/1950 is the elder son of Prince Tulajendra Rajah Bhosle currently residing in Chennai for looking after his business.He Is also a managing trustee of Serfoji Memorial hall Museum, Sadar mahal palace.
He is well versed in Tamil, English, Marathi and Hindi languages. Even though his mother tongue is Marathi, he had great interest in writing many novels and poems in Tamil during his college time. He is also a Tamil scholar. He completed his school education at st. Peter's school and graduated (B.A) at Rajah Serfoji's college both in Thanjavur. As he is the fifth descendent of Maharajah Serfoji II and 13th descendent of Thanjavur Maratha Royal family, like his father, he also gained more knowledge of the history of the Marathas of Thanjavur and Maharashtra.
He moved to Chennai in 1975, for his business and with his own efforts, he created his own firm and background in Chennai rather than using his family name.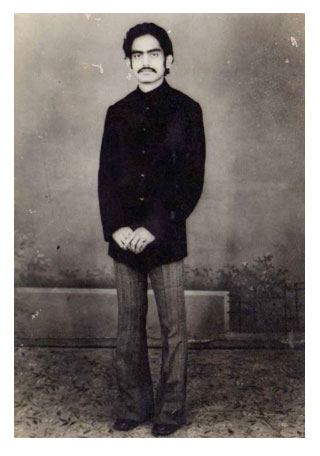 5) H.H PRINCE SHIVAJI RAJAH BHOSLE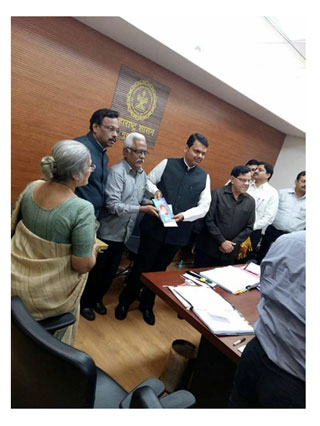 Shri Shivaji Rajah Bhosle is the second son of Prince Tulajendra Rajah Bhosle currently residing at Sadar Mahal Palace and looking after the Palace related administration in Thanjavur in the position of his elder brother. Prince Shivaji Rajah Bhosle, (who is the current senior head of the Thanjavur Maratha Royal family) is well versed in Tamil, Hindi, Marathi and English. Like his elder brother, he has also gained more knowledge on Thanjavur Maratha Dynasty. He is a retired employee of I.O.B. He is holding many positions in various fields,
1) Life member of the board of governors of Thanjavur Maharajah Serfoji's Saraswathi Mahal Library (TMSSML).
2) Managing Trustee, Rajah II Serfoji's memorial hall, Thanjavur.
3) Hereditary Trustee, Kottur estate and Devasthanam, Thanjavur.
4) Former president, Rotary club of Thanjavur.
5) Chairman, Marathi Abhyas parishad association, Thanjavur
6) Patron, southernMaratha central, Thanjavur.
7) Board Member Art gallery,Thanjavur and INTACH