MAHARAJAH SHAHAJI II
H.H. Choladesadhipati Srimant Rajasri Maharaja Kshatrapati Sri Shahaji Raje Saheb Bhosle was the elder son of Venkoji Maharajah. Venkoji died in 1684 A.D and was succeeded by his eldest son Shahaji II, who was born to him in 1670 A.D at Bangalore. Shahaji ruled Thanjavur from 1684- 1712 A.D When Shahaji II came to the throne he was barely13 or 14 years old and he was precocious.
His able ministers and his mother Deepabai were his guides and mentors. Shahaji II continued the old order and retained his father's trained ministers and trusted servants to advice him. He was a scholar and was well versed in Sanskrit, Telugu, Marathi, and Tamil. He also composed many songs on Thanjavur Brahadeshwara Temple. His work in several languages is numerous. Shahaji's own compositions in several languages and that of his court poets have enriched the literature of Thanjavur and infact his period was a golden period of literary activities. Shahaji II was described by all as 'Abhinava bhoja' for his attainments and generosity. He was praised in the records of fort St.George. He is ascribed to have improved the fort, built choultries and hospitals for which he secured foreign physician from Arabia and established civil and criminal courts. Shahaji II captured Tranqubar in 1699 A.D with an army of 40,000 horses and foot. In 1702, Shahaji II helped Mangamma against the Sethupathi's of Ramnad. Between 1682 and 1686 most of the Madurai territories were in the hands of Thanjavur and Mysore rulers. Shahaji II defeated the Madurai army in 1686 in decisive battle and captured all the pattukotai territory extending far south. In the war between Sethupathis and Madurai rulers, Shahaji helped the Sethupathis to defeat Madurai forces and therefore he annexed the whole of pattukottai and adjacent kallar country extending as far as Pambar River.
In Thanjavur Kingdom except Shahaji no successor of Venkoji went beyond the limits set by the founder to extend the Kingdom and strengthen their military.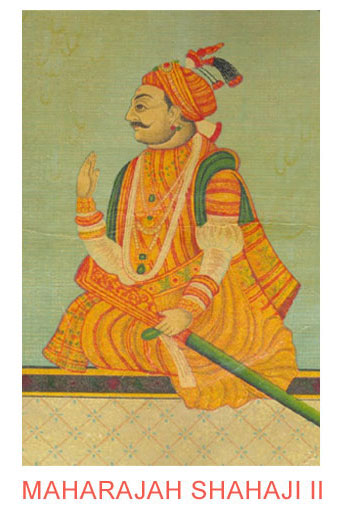 Maratha Darbar hall was built by him and he named the darbar hall as 'sivasowdah'. He wrote Dramas like Bhuloka Devendra Vilasa, meenakshi Kalyanam, Shankara Narayana Kalyanam, chandrahasa Vilasa natakam, kuravanji Vishnu shaharaja Vilasam in Tamil during his reign. Sanakrit works of high order were written in large numbers during the reign of Venkoji and his three sons between the years 1676 to 1737. Dharmakutam praises Shahaji.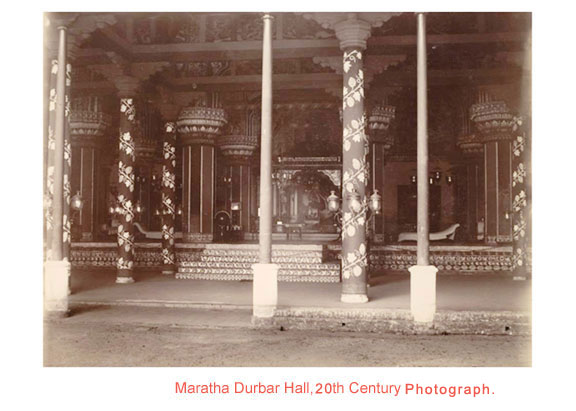 His minister Gangadhara Makhi and his three sons have contributed eminent works of rare merit in Sanskrit. Such works as Dharamakutam Acharya Navaneedam, Mukunda vilas Kavya, Uttarama Champu and Tamil works like Thiagaraya Kuravanji Thanjai Nayakam Pilla Tamil. Tamil Vannam, Veera raghava Mudalaiar vannam were the result of his patronage.
VenkataKrishnaKavi was an ornament of the courts of Trichinopoly, Gingee and Thanjavur. Appaya Dixitor of Gowri Mayuramwas an eminent Sanskrit scholar who flourished at that time. Besides several scholars one Sridhara Venkatesa known at that time as Ayyaval of Thiruvisanallur wrote shahendra villasa, superb kavya with Shahaji II as the hero of the drama. Shankara pallakki Seva Prabhanda a mellifluous dance drama is one of his works meant to be enacted in the Shrine of Thiagaraja at Tiruvarur. He endowed to Tiruvarur Temple 4500 acres of lands as sarvamanyam for the up keep of the Temple called Rajanga Kattalai. He endowed several villages with agraharam along the banks of Cauvery river and named them after eminent scholars or poets like Bhaskara Rayar, VichitraRayar etc.
In addition to the Contribution of his court poets, his own output of literature by way of dramas, kavya's and nritya sahityas is stupendous.
Anandaraya Makhi praises Shahaji for his acts of munificence to the scholars in his dance drama Vidya Parinaya which is a historical kavyas on the life of Shahaji, this drama was being enacted during Vasanthothsavam in Brahadeshwara Temple.
He also constructed Agraharams at EkaRajapuram and Deepambapuram named after his father and mother.
Such great saints and seers like Thiruvisanallur Ayyaval the author of Shahendra Vilasam who is attributed to have brought Ganga in his well, Bodendra Saraswathi the Advaitasanyasi who later became Shankarachari and sumatindra tirtha, author of Jayagoshana and pontiff of Madhava Mutt have written several panegyrics on Shahaji. Thiruvisanallur Ayyaval has praised Shahaji in his poem that the Raja himself is the heart and soul of the muse the goddess of learning (vani). Dharmakutam (a rare commentary on dharma Sastra) by Triambaka Raya Makhi a court poet and minister of Shahaji gives a clear insight into the various activities of Shahaji as well as his literary accomplishments he is hailed by contemporary poets as 'Sarvagnachudamani'. Shahaji II himself feels proud to call himself Chola Rajendra or master of Choladesh. Shahaji II died in 1712 without any issue and he was succeeded by his brother Serfoji I.
There are also some Telugu works from his period named Sahasraja Vilasa nataka narrates how Shahaji II defeated the Muslim sultans and conquered all lands upto Varanasi.
Shahaji was a great scholar who discovered and encouraged talent. Shahaji was a builder and he provided medial and educational facilities to the people. He himself wrote the following works Chandrasekara Vilasa, Sabda Ratna Samanvaya, Sabda Ratna Sangraha, Sringara Manjari. The myth says that the southern staple food sambhar was developed in the kitchens of Shahaji II. One of his favourite dishes, The amti (daal with tamarind pulp) one of whose key ingredients was kokum (Garcinia indica), the souring agent. On a particular day, Shahaji II's cooks found to their horror that they didn't had kokum, so they replaced it with Tamarind pulp which was added to the other ingredients toovar dal, vegetables and spices. Shahaji II loved the new dish so much that he got it served to his guest of the day,Chatrapathi Sambhaji, son of Shivaji the great after whom sambhar gets its name.