MAHARAJAH SHAHAJI II
> H.H. Cholasimhasanathipathi Srimant Rajasri Maharaja Kshatrapati Sri Shahaji II Raje Saheb Bhosle was born at Bangalore in 1670 A.D.

> He came to the throne when he was 13 or 14 years old.

> His mother Deepabai and his father's (King Venkoji alias Ekoji) ministers were his guide and mentors.

> He was well versed in Sanskrit, Telugu, Marathi, Hindi, Persian and Tamil languages.

> He was a musicologist and composer. He had composed many songs on Thanjavur Brihadeshwara Temple and Thiruvarur Tyagesha.

> 'Shahaji Ragalaksanamu' is his own work on the science of music.

> His period was the golden period of literary activities.

> His work in several languages is numerous.

> He was called as "Abhinava Bhoja" for his attainments and generosity.

> He built choultries, hospitals and had physicians from Arabia.

> He was a builder and he provided medical and educational facilities to the people. Maratha Durbar hall was built by him and named as "Siva Sowdah."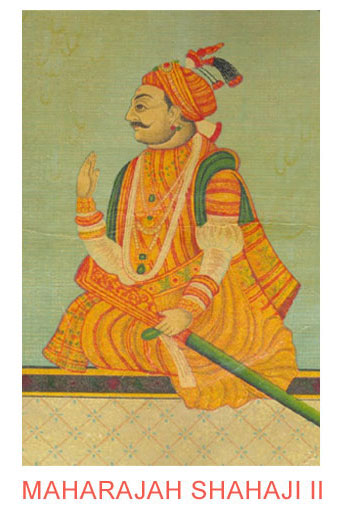 > He wrote many dramas during his reign.

> A work named "Dharmakutam" (a rare commentary on Dharma Sastra) by scholar and poet Triambaka Raya Makhi praises King Shahaji II's literary accomplishments and various activities.

> Shahendra Vilasa' was written by scholar Sridhara Venkatesa with King Shahaji II as the hero of the drama.

> Shankara Pallakhi Seva Prabhandam" was his work which was practiced at Thiruvarur Tyagesha temple. He composed Pallaki Seva Prabhanda, Tyagesha Kuruvangi in Telugu and Tyagesha Padas in honour of the presiding diety of Thiruvarur.

> Historical kavyas on the life of King Shahaji II named "Vidya Parinaya" was written by scholar Anandaraya Makhi in the praise of King Shahaji II. These dramas were performed during Vasanthosavam in Brihadeshwara Temple.

> There are also Telugu works from his period named "Saharaja Vilasa Nataka" narrates how King Shahaji II defeated the Muslim Sultans and conquered all lands upto Varanasi.

> The southern staple food "SAMBHAR" was developed in his kitchen and got its name after Dharmaveer Chatrapathi Sambhaji Maharaj who was the guest at his Palace to whom it was served.

> He himself wrote the following works: Chandrasekara Vilasa, Sabda Ratna Samanvaya, Sabda Ratna Sangraha, Singara Manjari.

> A series of bells were connected from Thanjavur Palace to Thiruvarur Tyagesha Temple, because only after the pooja-bells were rung and on hearing the bell sound, King Shahaji used to have his mid day meal.

> He captured Tranquebar in 1699 A.D. and extended his kingdom.

> He was praised in the records of Fort St. George.

> He endowed 4500 acres of lands to Thiruvarur Tyagesha temple and several villages with Agraharam along the banks of Cauvery river and named them after eminent scholars or poets like Bhaskara Rayar, Vichitra Rayar etc.

> He also constructed Agraharams (house quarters) at Ekarajapuram and Deepambapuram named after his father and mother.

> Thiruvisanallur was endowed by King Shahaji to scholars for promotion of spiritualism and fine arts in 1695 and was formerly known as Shahajirajapuram. Many eminent scholars lived at that village, prominent among them were Maruthanallur Sri Sadguru Swamigal (birth place), Sri Sadasiva Brahmendral, Sri Bhagavan Nama Bodendral and Sri Sridhara Venkatesa Ayyaval.

> Great saints like Thiruvianallur Ayyaval the author of Shahendra Vilasam who is attributed to have brought Ganga in his well, Bodendra Saraswathi the Dwaita Sanyasi who later became Shankarachari and Sumithendra Thirtha, author of Jayagoshana and pontiff of Madhva Mutt have written several Panegerics on King Shahaji II.

> Thiruvisanallur Ayyaval has praised King Shahaji in his poem that Raja himself is the heart and soul of muse to the Goddess of learning (Vani). •  He was called as Master of Choladesh by his people.

> King Shahaji abdicated the throne in favour of his brother (King Serfoji 1) and became a Sanyasi (Saint) towards the end of his life.

> There were as many as 48 scholars of Thiruvianallur who received substantial grants from King Shahaji in addition to several others.

> Kuravanji Nataka is a type of musical play, very often conducted in temples during festival days. They are devotional dramas in Tamil which flourished during the days of King Shahaji. He himself is credited to have composed Tyagesha Kuravanji, a Tamil play-the hero of the play being Lord Tyagesha the presiding deity of Tiruvarur temple worshipped by Maratha kings.

> King Rajaram, Son of Chhatrapathi Shivaji Maharaj was in Gingee (it is at Villupuram district, Tamilnadu) and the strong fort was in the hands of Zulffikar Khan, the redoubtable Moghul general. He himself led an expedition to Gingee and helped his kinsman to drive out the Moghuls.

> He has also composed several kirthanas of rare scientific merit.

> He was a linguist and a patron of learning.

> He was a great scholar in music and literature. More than 30 works comprising dramas, padas and kavyas have been ascribed to him.

> King Shahaji II was famous for his contribution to music, dance and drama. He was a valiant ruler and during his tenure, the country expanded upto Ramanathapuram.