ROYAL KITCHEN OF KING SERFOJI ll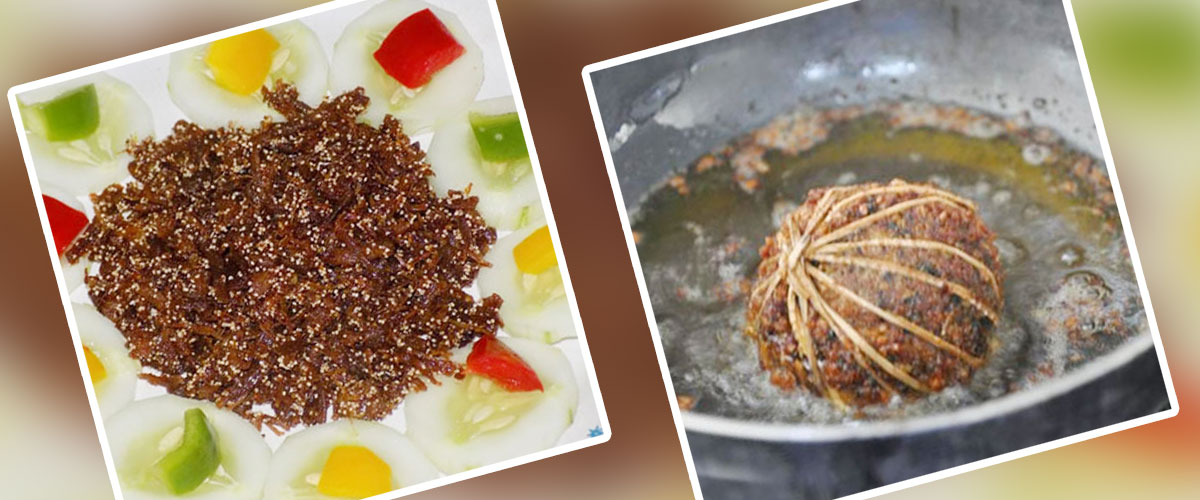 King Serfoji ll was believed to be a connoisseur of food and expert epicurean. He had collected some old works on English cuisine. Few of his collections of European kitchen can still be seen in his assemblies. The Modi records reveal that Serfoji maintained three kinds of kitchen - one purely non vegetarian (Marathi type), Brahminical Kitchen (Vegetarian type) and Angriji (English kitchen) where European style of delicacies were cooked.Non-vegetarian or Marathi Kitchen mostly prepared meat dishes of exquisite and temping to the palate of the most discriminating connoisseurs of food. This section of Marathi kitchen prepared rarest food items unknown in Maharashtra state and of purely belonging to Thanjavuri roots. Thanjavur Maratha rulers had not only encouraged culture, fine arts, literature during their reign but also food habits.
It will be very significant and pertinent to record that Marathi type of food of Thanjavur should not be confused with the typical food cuisine followed in Maharashtra. Their preparation has no bearing on Thanjavur Marathi food and is of the south Indian Tamil type and belongs to south. The food preparation of Maharashtra is entirely different from that of the south Indian one. The people of Maharashtra never use tamarind for sour taste like the Marathas of south; particularly that of Thanjavur. The two systems of food basically differ in taste and method of preparation. The Tanjore Marathas; at the time of their rule invited several kinds of victuals and gave them names also, the counter part of which cannot be found in Maharashtra state. Even today the people of those regions like and praise Thanjavur non vegetarian dishes. At least some similarity can be found between Thanjavur and Mughlai Preparations.
The food prepared in the Rajah's kitchen are of pure Tamilnadu origin except in their names but are the products of Tamilnadu cooks, and in their recipes tamarind pulp is generally mixed. The ingenuity and inventive talents of the south Indian Maratha cooks those were in the service of the Maratha raja's since several centuries. This has resulted in a new and special type of food preparation which has come to be as Maratha preparations.
Rajah Serfoji in addition to his 3 kinds of kitchen (Marathi, Brahmani and Angreji) maintained Sherbatkhana, ObdharKhana, Thatti MahalKhana (Sherbat, water and milk departments).The store rooms are called Kottiyam, where grains, groceries, oil and condiments are stored. They contained the choicest and unadulterated stuffs. Apart from fine and tasty food production, care was taken to clamp strict control over the purity of food and ingredients. Strict Vigil was maintained in water supply of the rajah in his obdharkhana and Dowlath mahal and Krishna Vilas Tank (Inside the Palace) departments, whose officers were supervising water and Sherbath.
In English kitchen Venkatasami was employed as a Buttler to the Rajah in the year 1825 and his preparation in the shape of Jellies, Puffs, Stuffings, Broth, Sauces of vegetable and Mutton are recorded in great detail. Delicious fish and egg Preparation like Omelets, Pickles and similar recipes are recorded.
According to Hindu Beliefs there are 6 kinds of tastes- sweet, sour,salty,hot,bitter and astringent and all these elementary tastes are appropriately blended in these preparation to make the food appealing to the palates of people. The recipes are neither excessively hot nor bland. And similarly the sweet preparations are not too much sweet or sour. The Shedrasas (six rasas [gravys]) are properly balanced to earn the appreciation of the King.
The book titled 'Sarabhendra PakaSastra' which is available at Sarasvati Mahal Library even today contains more than 100 Thanjavur Maratha royal recipes during the times of Serfoji ll which are not known to todays' world. This book is based on a very valuable two volume manuscripts in Marathi Preserved in Sarasvati Mahal Library. The 1st volume manuscript contains both vegetarian and non-vegetarian food preparations. The manuscripts are said to be recorded or written by some scribes as per the Jabani (Oral statement) of one Narayanan and Butler Venkataswamy during the period of Rajah Serfoji. This work contains in addition to Hindu vegetarian and non-Vegetarian dishes, English type of preparation. The 2nd volume was original hand written manuscript and its pages bear a number of water marks of the year 1816 A.D. The 2nd volume contains every recipe of Thanjavur origin Non vegetarian recipes.
Some of the Thanjavur Maratha Royal Recipes with The method of Preparation
KESAR MASS (KESARI MASS)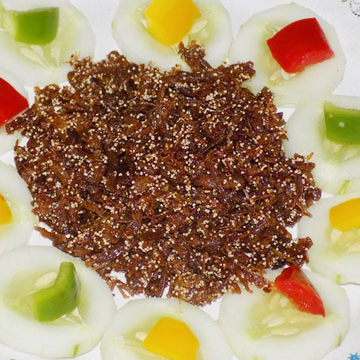 The name kesar or kesari indicates and strike as a sweet to many people but it is not a sweet dish. It is a light spicy dish. A kind of mutton receipe which is soft like a sponge and has a delicious Yummiee taste which takes few minutes to prepare and said to be kept for a week and eat.
Method of Preparation:
1. Cut the mutton into large pieces and boil and cook it well.
2. Remove the mutton pieces and shred it by fingers in the shape of saffron flower or thread.
3. The fibres of the mutton will be like thread if shreded by hand.
4. Mix in it one spoon of salt and grinded paste of chillies, khas-khas seeds in the shreded mutton, mix well and keep aside, place a fry pan on the fire and pour half litre of ghee, and when the ghee gets heated put the mutton shreds and fry them till they turn golden red.
5. In the end pour the juice of one lime fruit and mix them together.
DHAI MASS (CURD MUTTON)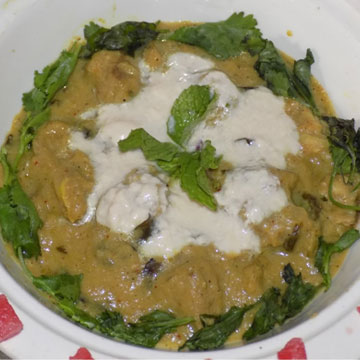 Method of Preparation:
1. Take half kg of mutton and cut into pieces and wash.
2. Add the following masalas: red chillies 1 table spoon, pepper half table spoon, roasted corriander seeds 2 table spoons,turmeric half table spoon, roasted khaskhas (opium seeds) one table spoon. roasted bengal-gram one table spoon, dried coconut scrappings 3 table spoons. they should be well roasted and nicely grinded into paste and applied on the mutton pieces. Add ginger juice two table spoon, chopped onion juice 5 table spoons, the juice or paste of garlic 2 table spoons, curd 250grams mix well and keep aside.
3. Pour one litre of ghee in a pan and heat, add chinnamon bark half table spoon, chopped onions 3 spoons, cumin seeds half table spoon, five cloves, a small bunch of curry leaves and saute them well in the ghee.Add the mutton together with the massala and add five litres of water and cover the pan with the lid.
4. When mutton cooked, water gets reduced then squeeze one lime juice. After put the powder of half table spoon of Cardamoms and 3 table spoons of corriander leaves and remove from the fire.